Thank You For Ordering
"Clickbank Wealth Guide – The Complete Guide To Affiliate Profits"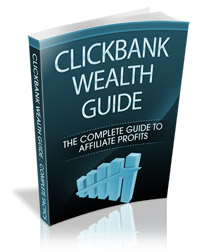 The guide is in PDF format, which means it is readable on both Macintosh computers as well as Windows (PC).
If you ever have any problems with downloading or accessing the guide, please do not hesitate to contact our support desk for assistance.
You Will Need Adobe PDF Reader to view the guide.
Click here to download Acrobat.
Please bookmark this page in the event you need to return to re-download in the future. Your IP address is recorded for security purposes and to ensure that this page is available to you, and to protect our product from unauthorized distribution.